Autism@Work Virtual Summit a great success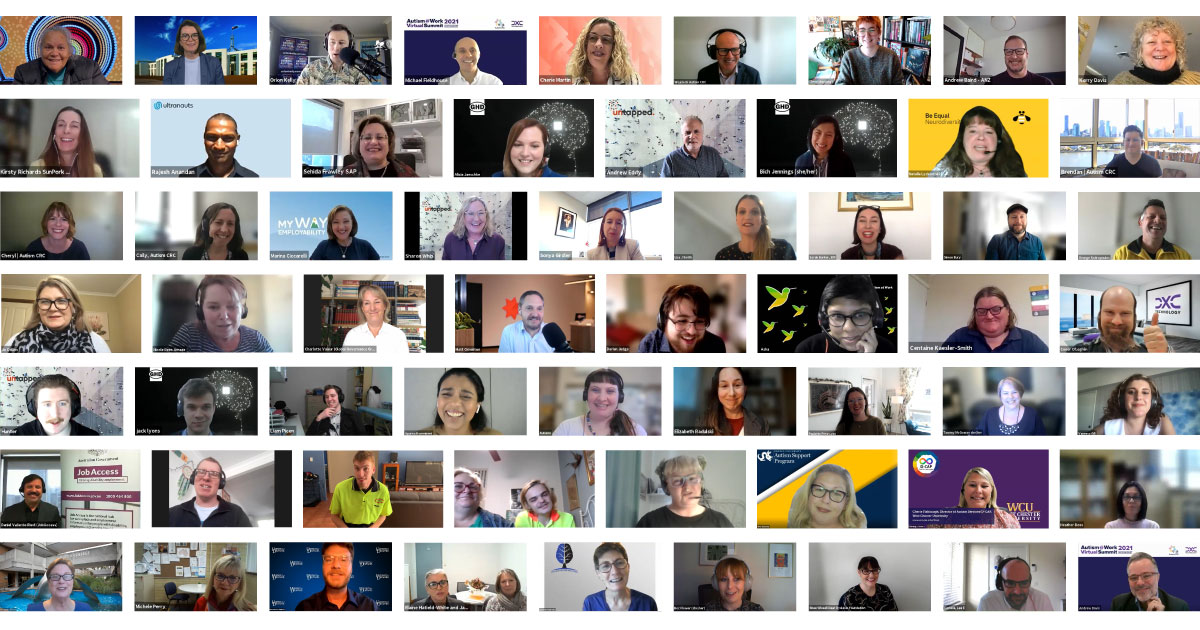 More than 500 delegates attended Australia's first Autism​@​Work Virtual Summit, hearing about the benefits of a neurodiverse workplace and exploring how to achieve Sustainable Programs, Sustainable Employment for employers and employees.
Hosted by Autism CRC and DXC Technology, the two-day event included keynote addresses from three autistic speakers:
Clem Bastow: Screenwriter, university tutor, award-winning cultural critic, author and autistic speaker.
Charlotte Valeur: Experienced corporate governance advisor, Board member, and neurodiversity advocate.
Lee Corless: Head of the Autism at Work Programme for EMEA and APAC Regions at JPMorgan Chase.
The program included more than 50 speakers and also featured:
a panel of autistic adults, sharing their experiences of employment
an employer panel, discussing sustainable employment, sustainable programs from their perspective
sessions on a range of topics including mental health, employee resource groups, transition support, workplace adjustments, advocacy in employment, and small business skills for autistic adults.
The Summit was attended by employers, autistic adults, family members/carers, educators, service providers, researchers and students from across Australia and around the world.
We are very proud of the Summit's outcomes, with the majority of survey respondents indicating their knowledge, skills, confidence and motivation improved as a result of the event.
Both employers and employees were strongly represented amongst the Summit's presenters. We are also very proud of the fact that approximately half of the speakers were neurodivergent and that the speakers list included neurodivergent employers, executives and business owners. We believe that the shared wisdom and experience of all of our presenters was a major contributing factor to the event's success.
Feedback from attendees was overwhelmingly positive.
"This would have to be one of those rare times that I have attended a conference and have been able to say that it exceeded my expectations! Thankyou so very much, I look forward to the next one. I've learnt so very much both personally and from a work place perspective."

Summit attendee
"Speakers were very clear, passionate and insightful."

Summit attendee
"What a great initiative. I wish more people could know about this, especially parents of Autistic children. It has given me lots to think about and valuable insights."

Summit attendee
"Presenters and panelists were all practical in their knowledge sharing, had great expertise, were relevant and current in their strategy suggestions and spoke from real life experience."

Summit attendee
Autism CRC would like to thank our co-host, DXC Technology, and event sponsors – SAP, AISA, GHD, Untapped, SunPork Group, Curtin University, ANZ, La Trobe University and BHP – for helping to make the first Autism​@​Work Virtual Summit such a success.
Recordings of all sessions at the Autism​@​Work Virtual Summit will be made available on the Autism CRC YouTube channel before the end of the year.
We look forward to the next Summit in 2022!