George's Run begins 5 November 2023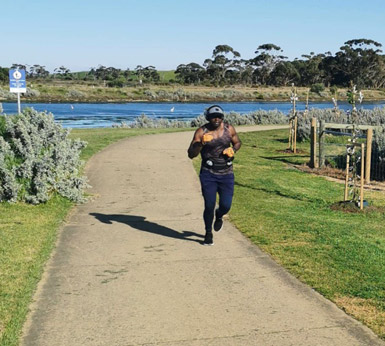 This ambitious challenge will see George Chijarira raise money for autism research as he walks, runs and cycles Adelaide to Melbourne (covering 726km) in seven days.
'George's Run' is a charity event aiming to raise $50,000 for autism research with all donations going to support Autism CRC's collaborative research initiatives.
"From a young age, I have always been drawn to the exhilarating world of movement and physical activity. Growing up, I was constantly on the go, exploring the outdoors, and seeking new adventures," says George.
George hopes his efforts will contribute to enhancing understanding of autism, developing effective supports and improving the quality of life for autistic people and their families in Australia.
"Together, we can make a significant impact on understanding and supporting individuals on the autism spectrum, including my own son, Jordan, and countless others who deserve a brighter, more inclusive future," says George.
Donations for George's Run are being accepted through My Cause.
The event
George will gather with his followers on Sunday 5 November at Adelaide Oval for the launch of George's Run with speeches being made at 9am. During the week-long event, George will make updates on his daily progress via his social media and hopes to see supporters along the way!
| Day | Route | Distance |
| --- | --- | --- |
| Day 1 – Sun 5 Nov | Adelaide Oval to Tailem Bend | 124 km |
| Day 2 – Mon 6 Nov | Tailem Bend to Tintinara | 119 km |
| Day 3 – Tues 7 Nov | Tintinara to Bordertown | 113 km |
| Day 4 – Wed 8 Nov | Bordertown to Horsham | 160 km |
| Day 5 – Thu 9 Nov | Horsham to Ararat | 114 km |
| Day 6 – Fri 10 Nov | Ararat to Ballarat | 110 km |
| Day 7 – Sat 11 Nov | Ballarat to Federation Square | 119 km |
George will complete his epic journey on Saturday 11 November, arriving at Federation Square, Melbourne.
George's Run is sponsored by Prodigy Health Solutions, who are providing equipment and logistical support to give George the best chance of success.
Autism CRC CEO, Andrew Davis, said Autism CRC is delighted to support George, and humbled by his determination and efforts to improve quality of life and opportunity for autistic people.
Follow George's run