We would like to thank all our participants, who have contributed to positively transforming the lives of autistic people across the lifespan. Thank you!
The Australian Autism Biobank is Australia's largest collection of biological, behavioural, environmental and medical information of children on the autism spectrum and their families. Almost 3,000 autistic and non-autistic children and adults participated from across Australia. From our participants we collected 4,500 biological samples, as well as behavioural and questionnaire data. The majority of participants were primary school aged. From our child participants, we collected samples for blood, urine, stool and hair. We also collected blood samples from parent participants.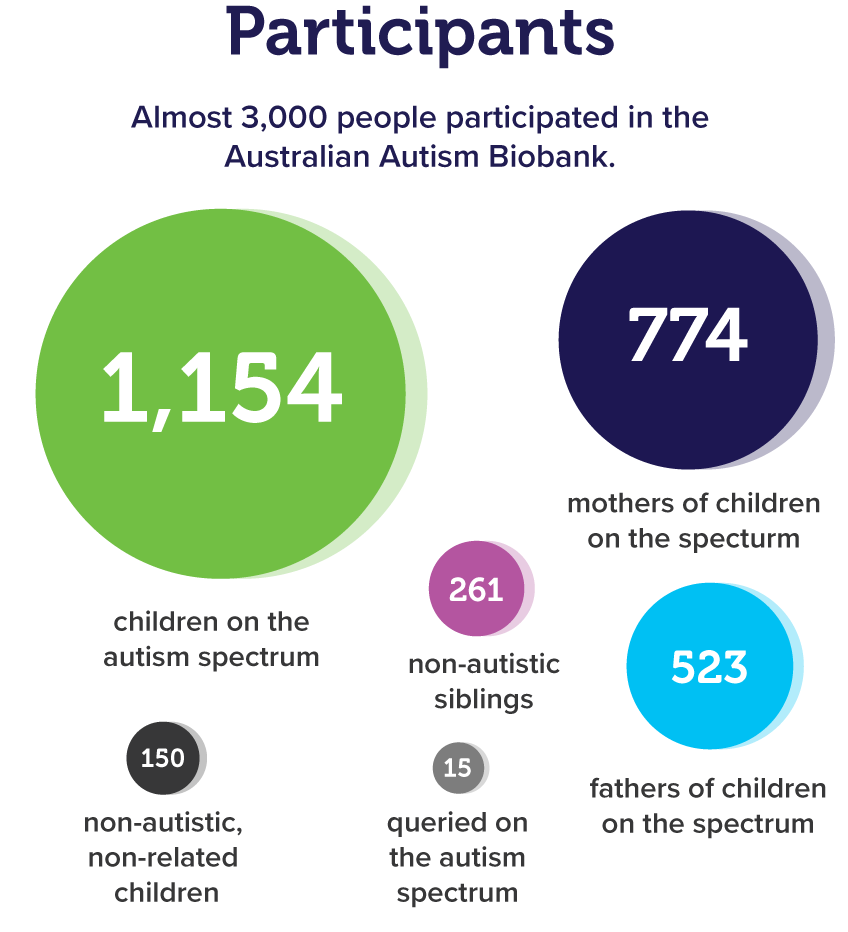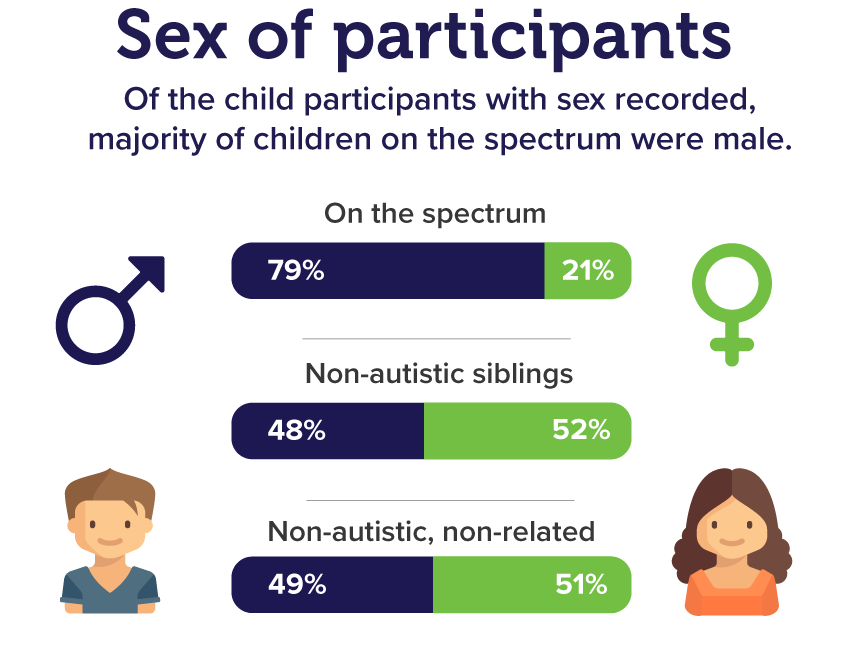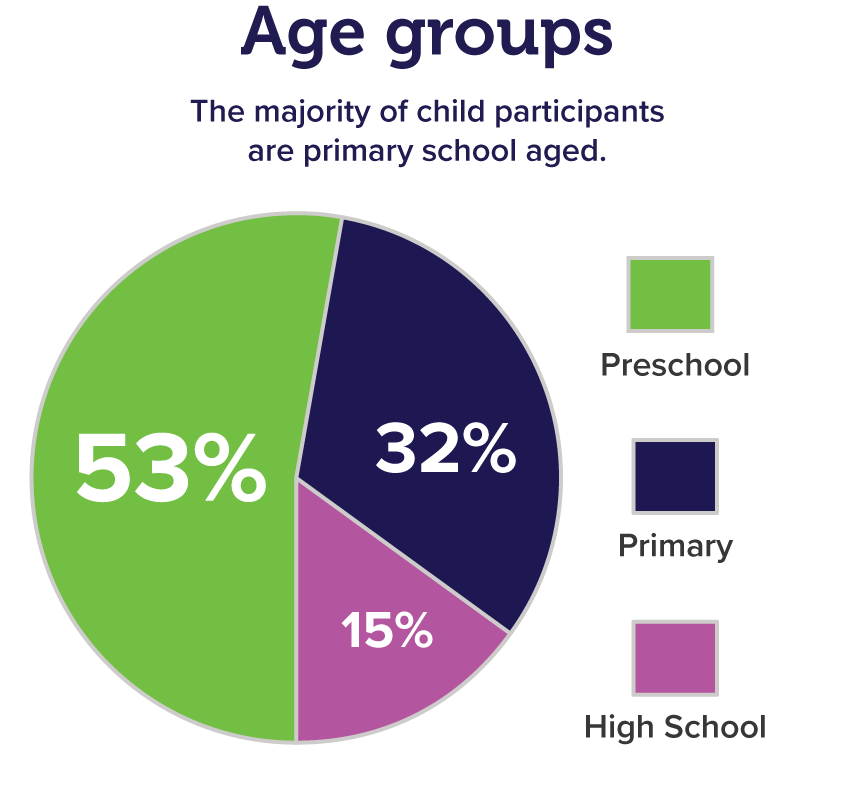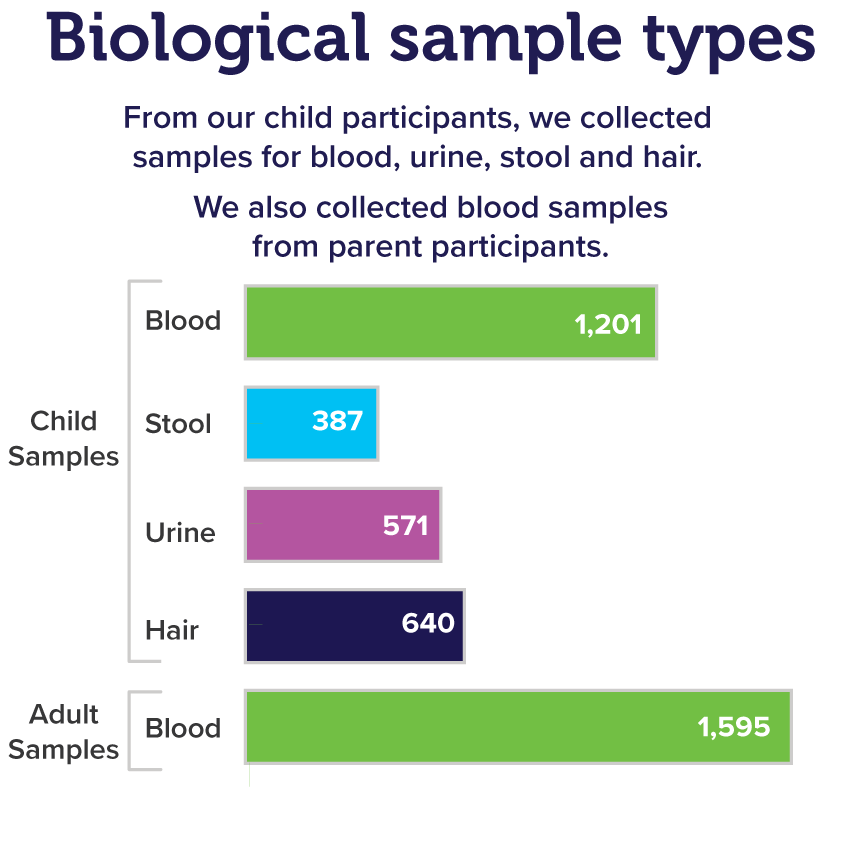 Frequently Asked Questions
Having samples and information from many study participants can accelerate the pace at which research can occur. Recruiting participants and collecting these samples and information takes time and money. A biobank safely stores this data in one place for approved research access. Biological samples can also degrade and become less usable over time, but the information these samples provide can be very valuable for research.  This is why in addition to safely storing these samples, a condition of accessing the Australian Autism Biobank is that information resulting from the use of these samples is returned to the Biobank for storage and future research projects.
The comprehensive biological, clinical and environmental information available for study will be extremely valuable in understanding autism and co-occurring conditions, such as epilepsy, gastrointestinal disorders, and sleep disorders. This is relevant to all aspects of care from diagnosis through to ageing. Through an understanding of how biology and environment interact, and their linkages to different types of autism, we may help connect individuals and families to more appropriate and effective supports for health and wellbeing.
The Australian Autism Biobank has approved a variety of projects across different research areas relating to autism, including better and earlier autism diagnosis (including subtyping), motor development, sensory subtyping, behavioural characteristics of females on the spectrum and a range of co-occurring conditions and health issues such as anxiety, gastrointestinal disorders, sleep disorders and oral health.
Oversight of the applications to use Australian Autism Biobank data is by the Autism CRC Access Committee. This committee consists of at least six people appointed by Autism CRC, including at least one member of the autistic or broader autism community.
The Autism CRC Access Committee will use scientific advisers with expertise related to the specific project under evaluation where required. This committee will assess each application with respect to its:
scientific merit, feasibility and priority of use of the material requested, and
the impact on the Australian Autism Biobank in light of overall balance of resources and demand on specimens and data.
Access to data will only ever be granted by this committee when researchers have approval from an appropriate Human Research Ethics Committee and where the Autism CRC Access Committee can identify a clear potential benefit of the proposed research to the autistic and autism communities.
Anyone may apply to access Australian Autism Biobank data through the Autism CRC Access Committee. All applications must be considered and approved by the Access Committee before data or material can be shared. Projects must also have approval from an appropriate Human Research Ethics Committee. Projects will be considered on their scientific merits and benefit to the community.
This committee consists of at least six people appointed by Autism CRC, including at least one member of the autistic or broader autism community.
The Australian Autism Biobank and Autism CRC are committed to creating end-user driven research from the Australian Autism Biobank. Autism CRC has established the Australian Autism Research Council (AARC) to identify autism research priorities in Australia. In 2019 the AARC conducted a community consultation and identified 10 priority areas for autism research in Australia (read the 2019 Research Priorities report). In 2020, the AARC began facilitating focus groups around 5 of these priority areas, including communication, justice, employment, education and health and wellbeing. Initially, the Australian Autism Biobank will look to communicate the outcomes of the AARC working groups to applicants once available with a view to encouraging applications guided by community priorities.
No, the Australian Autism Biobank is for research purposes only. If you would like to access clinical genomic services, please speak to your usual health practitioner.
Contact
Contact the Australian Autism Biobank at biobank@autismcrc.com.au
Acknowledgements
Autism CRC would like to thank the children on the autism spectrum, their siblings and parents and other children who generously contributed their time and data/samples for the Australian Autism Biobank.
Autism CRC acknowledges and thanks the various sites and their staff who supported the establishment of the Australian Autism Biobank: Telethon Kids Institute, University of NSW, La Trobe University, Mater Medical Research Institute, Institute for Molecular Biosciences: University of Queensland, Wesley Medical Research, University of Western Australia, Pathwest and Sydney Children's Hospital Network, Andrew Whitehouse, Dora Abbondanza, Gail Alvares, Erin Beattie, Jolene Berry, Vandhana Bharti, Grace Christou, Dominique Cleary, Paul A Dawson, Melanie De Jong, Cheryl Dissanayake, Kendra Dommisse, Valsamma Eapen, Mira Frenk, Jacob Gratten, Rachel Grove, Claire Hafekost, Maryam Haghiran, Alexis Harun, Nicole Hayes, Anjali Henders, Honey Heussler, Helen Holdsworth, Anneliese Hopkins, Anna Hunt, Rachel Jellett, Feroza Khan, Lauren Lawson, Deborah Lennon, Jodie Leslie, Anne Masi, Nisha Mathew, Tiana McLaren, Candice Michael, Melanie Muniandy, Melissa Neylan, Michaela Nothard, Brooke Peden, Mridu Radhakrishnan, Ola Rajapakse, Emma Raymond, Felicity Rose, Natalie Silove, Ashley Thomson, Leanne Wallace and Naomi Wray.